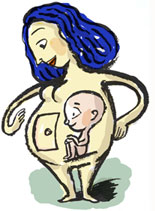 I hadn't ever heard the term "VBAC" (pronounced 'v' back) before I got pregnant this time around. Apparently if you have a c-section in your first pregnancy, you are sometimes have the option of having a "Vaginal Birth After Cesarean." I happen to fall into this category. So now I get to decide, do I want to try another regular delivery, or would I prefer to go straight to a scheduled c-section? For those of you who don't recall, my first delivery experience was quite lengthy and painful and ultimately ended in an emergency c-section. For those of you interested in the gruesome details, you can check out Xander's first post here.
Right now, I just can't decide. There are pros and cons to both sides. With a successful VBAC, there are less lung complications for the baby. However, if I attempt a VBAC and then end up with another emergency c-section, there are higher risks to the baby. There is also a small chance that if I attempt a natural birth, my uterus may tear at the sight of the incision of the first c-section. This would of course be bad news for both me and the baby. If I decide to have a scheduled c-section, there is more danger that the baby's lungs might not be fully developed, but there is less stress than in a regular delivery. Since there is no way to predict how this birth will go, it's even more difficult to decide what would be best.
Then of course, there are the practical considerations – a regular birth means a shorter recovery time, but an unpredictable delivery, and no guarantee that I might not need a c-section again eventually. A scheduled c-section fits much better with my type A personality and need to schedule and plan things. But, it also means a longer recovery time, and I wouldn't be able to lift Xander for at least 2 weeks. I know some women feel robbed of a natural delivery if they end up having a c-section, but I never felt that way. I didn't ever feel like I was less of a woman, or that my delivery was somehow less valid than any other delivery, so this time around I don't feel like I need to try a natural delivery because I missed out on something the first time around. At least this isn't something that I need to factor into my decision.
My doctors have been wonderful – I wondered if they would encourage one option over another, but they didn't – not even a little bit. At my last visit we talked about some of the benefits of each option. He said that in his experience, women who went through a second c-section generally found the recovery time to be easier the second time around, which was a relief to hear. We talked a little bit about my specific delivery experience, and decided that we'd look at the records more later, and talk more as the time got closer. He also said that if I decided to try a regular birth, it would be like last time where I waited forever before they decided on a c-section. This time around, I could change my mind at any point. If I felt like things were going as slowly as they were before, then I could say that I didn't want to wait anymore and I would prefer to go straight to c-section. All of this information made me feel a lot better about either decision I make, but I'm still having a heck of a time trying to decide.
There are tons of websites out there with individual stories about women who had VBACs, even vbac.com – which is of course entirely in favor of going the natural delivery route. A quick google search turns up tons of information on the subject. It sounds like lots of hospitals are banning VBACs – they say for medical reasons, but most individuals claim it's more legal and business reasons. This part of the debate doesn't affect me much personally, as my hospital still encourages VBACs for women who are interested, but I do find the debate over them rather interesting.
I've got time of course to make my decision, but I think that this one is going to take me a while to sort out. Has anyone else out there gone through this VBAC decision process? What did you do to help you decide?

People who looked at this item also looked at…
Related items